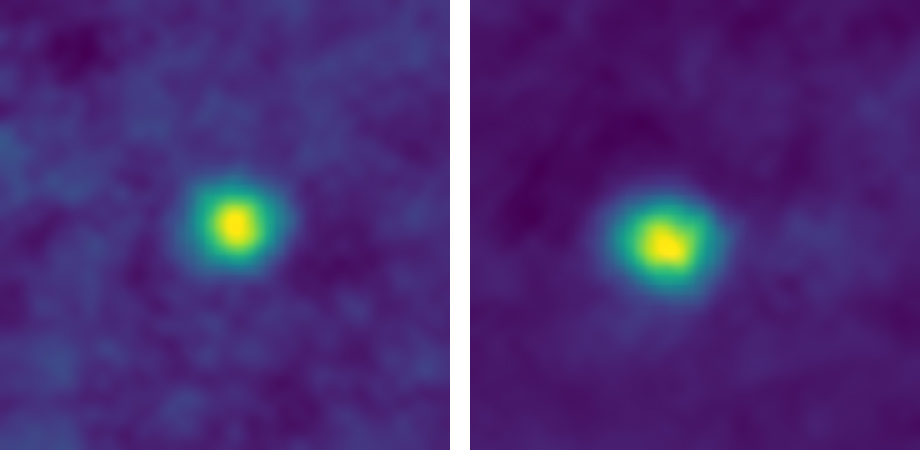 New Horizon picture of two TNOs (Credits: NASA)
Centaurs and Trans-Neptunian Objects (TNOs): a single family of objects?¶
AstroAnalytics: Data science in the astrophysical and planetary science¶
version 1.0 (12/2/2018)
version 1.1 (19/3/2018): failed attempt to classify TNOs versus Centaurs with their colors
Wing-Fai Thi
If you are bored of tutorials using the default datasets like the Iris or the Titanic to learn Data Science, here I show how to use Data Science techniques to analyse astrophysical or planetary science data. The tutorials are based on actual analyses published in scientifics journals and the datasets are available online or can be copied from the articles. Other tutorials are more classic in the sense that no astrophysical data will be used.
Scientific background¶
Centaurs¶
Centaurs are small solar system bodies (minor planets) with a semi-major axis between those of the outer planets (Uranus, Neptune). The centaurs lie generally inwards of the Kuiper belt and outside the Jupiter trojans. They have unstable orbits because they cross or have crossed the orbits of one or more of the giant planets; almost all their orbits have dynamic lifetimes of only a few million years. Centaurs typically behave with characteristics of both asteroids and comets.
The colours of centaurs are very diverse, which challenges any simple model of surface composition. In the diagram, the colour indices are measures of apparent magnitude of an object through blue (B), visible (V) (i.e. green-yellow) and red (R) filters. The diagram illustrates these differences (in exaggerated colours) for all centaurs with known colour indices. For reference, two moons: Triton and Phoebe, and planet Mars are plotted (yellow labels, size not to scale).
Credits Wikipedia
Centaurs appear to be grouped into two classes:
very red – for example 5145 Pholus
blue (or blue-grey, according to some authors) – for example 2060 Chiron
There are numerous theories to explain this colour difference, but they can be divided broadly into two categories:
the colour difference results from a difference in the origin and/or composition of the centaur (see origin below)
the colour difference reflects a different level of space-weathering from radiation and/or cometary activity.
How to overcome the observation overkill? How to make sense of large datasets?¶
Cluster analysis uses the data themselves creates groupings of beings or objects.
PCA identifies a few components that you can assemble from a large set of measured variables.
PCA and cluster analysis complement each other and actually nurture each other.
Both are called unsupervised machine learning methods.
The data are taken from:¶
Interesting websites¶
References:¶
Razali et al. (2001) Journal of Modelling and Analytics 2,21. Power comparisons of Shapiro-Wilk, Kolmogorov-Smirnov, Lillefors and Anderson-Darling tests. The authors claim that test with the best power for agiven significance in deacring order are:

Shapiro-Wilk
Anderson-Darling
Kolmogorov-Smirnov
Lillefors

Pexinho et al. atro-oh 1206.3153
Aim of the notebook:¶
We will analyse the PCA by clustering of the colors of a sample of Centaurs and TNOs.
We will confirm the two grouping by color.
There is no difference between Centaurs and TNOs in the colors.
Generate a mock TNO/Centaur sample using Principle Component Analysis
We will explore also the Factor Analysis and Nonnegative Factorization methods